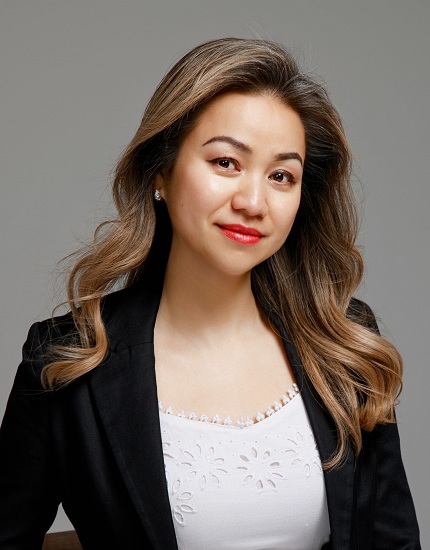 Introducing Han, your dedicated and passionate real estate agent, who brings a unique blend of business acumen and a heart for serving others. With a proven track record of academic excellence and a solid commitment to making a difference, Han is here to guide you through your real estate journey with care and compassion.
Han's journey began at San Jose State University, where she graduated with honors, earning a Business degree with Cume laude distinction and Dean's List recognition. But her genuine compassion and desire to help others truly set her apart.
During her college years, Han embarked on a mission to make a difference in the lives of those less fortunate. She established a charity initiative that sponsored 250 homeless individuals for 18 months. She wrote a letter and door knocked to neighbors, professors, and classmates to rally support. This transformative experience solidified her commitment to serving others and honed her valiant organizational, leadership, and interpersonal skills.
Driven by a deep understanding of the emotional and financial weight behind buying or selling a home, Han is here to support you every step. She knows firsthand the impact a caring and dedicated agent can have, as she was guided by an agent who left an indelible mark when she purchased her home and family investment properties. Inspired by that agent's care, dedication, and tireless efforts, Han aspires to provide the same level of exceptional service to her clients.
With an intimate knowledge of the real estate market and a profound respect for each client's unique journey, Han approaches her work with warmth and empathy. She believes real estate is not just a one-time transaction but a lifelong commitment and relationship beyond closing. Even after the deal, Han is dedicated to building lasting connections and utilizing her extensive network to provide ongoing support and assistance.
Han's passion for serving your best interests shines through in her work. She constantly attends events, training, and classes to sharpen her skill and keep her updated on the market. As a certified Real Estate Negotiation Expert (RENE) by SCCAOR, she has the expertise to navigate complex negotiations and has saved her happy buyers thousands of dollars on their offers. Her market insights, attention to detail, and effective advocacy ensure you receive the best possible outcomes.
If you're looking for a real estate agent who combines business acumen with a personal touch and unwavering dedication to your needs, look no further than Han. With her by your side, you can trust that your real estate journey will be guided by expertise, integrity, and a genuine desire to make your dreams a reality.
Infiniti Real Estate
DRE#: 01469513

2978 Aborn Square Rd, San Jose, CA 95121