"Building Lifetime Relationships - One Client at a Time"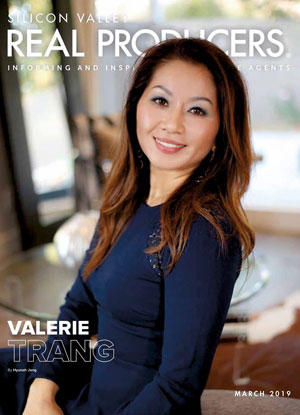 Cover Story: Valerie Trang, Broker of Infiniti Real Estate
The Heart of a WarriorCover Story: Valerie Trang, Broker of Infiniti Real Estate
The Heart of a Warrior
"Never give up, be true to yourself"
This is Valerie Trang's mantra, and it was instilled at a young age. She understood that perseverance, determination, and being true to herself would be her North Star.
Her story begins during the Vietnam War.
Growing up in Vietnam
"I could write a book about it," Valerie begins.
The capture of Saigon (now Ho Chi Minh City) by the North Vietnamese Army in April 1975 marked the end of the Vietnam War. As the country restructured itself under a Communist government, Republican soldiers and political figures of the former South Vietnam were sent to re-education camps. Valerie's father was one of them.
"My dad was a Republican," Valerie reflects, "he was in a re-education camp for five years. During this time, my mom was pregnant with me and caring for my brother who was 5 years old. It was a difficult period, and my parents saw no future if we stayed in Vietnam. Over a million people fled the country by boat or feet between 1975 and 1995 with hope of a new life. It was a perilous journey, and many drowned or were captured and killed by pirates." When Valerie was 13 years old, her family decided to leave.
"It took us almost a month to flee from Vietnam to Cambodia (on foot) then to Thailand (by boat). We were on a small, crowded fishing boat for six days. We had no food for three of the days. It was horrible."
"In Thailand we stayed at a refugee camp. I had one set of clothes, one pair of slippers, and that was it, not even a pair of shoes," Valerie explains. The camps did not have adequate provisions and life was dire. But Valerie never gave up hope that things would get better. After 18-months, Valerie's family was successfully sponsored by her uncle in Hawaii.
At a very young age, Valerie understood perseverance.
Life in the United States
When Valerie arrived in Hawaii, she was enrolled as a freshman in high school. Everything was new to her, the language, the culture, and the people. Valerie adapted quickly.
"I learned a lot from this time in my life," Valerie explains. "[In Thailand] I was poor - very poor – there were days we had no food or water. In high school, I had to work twice as hard as the next student to catch up, with half the resources. But I determined to succeed, to overcome any obstacles that stood in my way. I had made it this far, the only path was forward."
Valerie graduated high school with honors, and would go on to complete two degrees, Business Management and Management Information System (MIS), from the University of Hawaii. She was offered a job at in IT at IBM and relocated to San Jose, California in 1999, and where she still resides with her Mother, husband and 2 young children.
The Heart of a Warrior
A warrior never gives up. Alongside her moving story as a refugee and immigrant, Valerie has overcome health ailments with dogged determination and a zest for life.
As a child, Valerie had polio. Her family could not afford treatment or a wheelchair. "I was five years old, and had to crawl on the floor to move around," Valerie recalls. "We were so poor we didn't have enough rice to eat most days, never mind treat my illness. My mom was lucky to have found a charity that offered to bring me to the city for rehabilitation. After a few months, I was finally able to walk again."
Then in the fall of 2011, Valerie noticed a lump on her breast and was diagnosed with Breast Cancer. Rather than dwelling on "Why me?" or "How could this happen?" Valerie was gearing up for the fight for her life – literally. She was not going to let cancer stop her. After surgery and over a year of chemotherapy and radiation treatments, she was declared cancer-free.
""It was so hard," she reflects. "Beating cancer was one of the most difficult obstacles I have overcome; it was a physical, mental, and emotional battle all at once. My son was 8 and my daughter was 2, I was determined to see them grow up. I was not going anywhere. There were dark moments, but there was also light. Almost losing everything changed me, it gave me a new perspective on what is important." Valerie is quick to comment that she's not shy about sharing her story. Her vulnerability is inspiring.
Rising Above

For many years, Valerie worked as a full-time IT manager, and part-time as a real estate agent. Her part-time work is a misnomer, as she was closing 25-30 transactions annually. Whether it was buying or selling, Valerie loves real estate because she loves working with people. She has an affable personality an authenticity that helps her build connections. It was her calling. So in 2015, Valerie decided to follow her heart and dedicated herself to real estate. Today she runs a successful Infiniti Real Estate brokerage based in Evergreen, closing 48 transactions with over $50 Million in sales volume in 2018. She ranked TOP 100 agents in Silicon Valley by Silicon Valley Real Producers.
"I have an instinct," Valerie explains. "I know my strength, and it is relationships. When I meet clients face to face, I have that instant connection. It is not something you can teach, it is there or it is not."
Valerie is also committed to providing her customers the very best. She is a member of the Top Agent Network, and holds the designation of Graduate Realtor Institute (GRI). Realtors with the GRI designation have in-depth training in legal and regulatory issues, technology, and professional standards. It is considered the Number 1 real estate designation in the industry, according to www.Realtor.com
Rising above takes perseverance and determination, and sometimes a little help along the way. Along her journey, Valerie and her family had had good people step in in time of need, and she wants to do the same. She remembers the hardship and it motivates her to take action. She wants to give back.
In 2011, amidst her battle with cancer, Valerie founded Tu Tam – Loving Hearts Charity. Reflecting from her personal life experience, her first initiative was to provide disabled Vietnamese people in her hometown with wheelchairs.
"What I didn't have as a child, I want to help others to be able to enjoy," she explains. She has a son, Tien, who is 15 years old, and a daughter, Yen-Nhi who is 9 years old. Both are following in their mother's footsteps with their charity work. When Tien was 12, he started a fundraising campaign that raised enough money to buy 19 bicycles for middle school children in Vietnam. These students normally walked 3 hours to and from school. In 2018, under Valerie's management, Tu Tam raised enough money to buy almost 200 wheelchairs, 100 bicycles and over 2,000 care packages for the elderly and disabled in Vietnam. In addition to Tu Tam Charity, she is starting a new non-profit with the mission to build schools and support education in small villages of Vietnam.
"For everyone who has helped me during my darkest days, I am indebted. I promise to pay it forward in your honor. Through my children, I teach them the importance of giving. They understand how fortunate they are compared to kids they meet annually during our charity trips to Vietnam. "Most importantly," she says, "When I leave this world, I am not leaving my children with a nice house, an abundance of wealth. What I want to for my children is to have a big and kind heart, and compassion and passion to make this world a happier place to live."
On that note, Valerie closes with, "If anything is worth doing, do it with all your heart."
Infiniti Real Estate
DRE#: 01469513

2978 Aborn Square Rd, San Jose, CA 95121